If you want to learn how to pick up girls, you're going to need a hands-on education. In this article, you'll find plenty of tips to get you started, but learning information is the easy part. If you want to get really good at meeting and attracting women, get out there and start interacting. You're not going to meet women inside your bedroom, so get moving! The more you do it, the better you will become.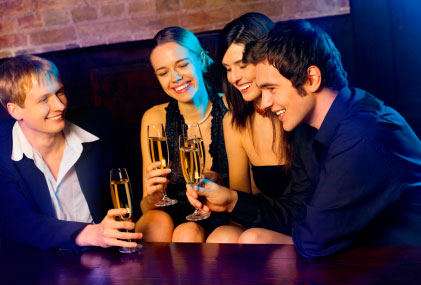 Choose your locations wisely.
If you like party girls, you ought to be hitting up parties and nightclubs. However, if you like more sensual, seductive women, you'll fare better in lounges and house music venues. And if you like intellectuals and educated girls, your best bet is going to be the bookstore… or the street. And if you're not sure, check out my free ebook Finding Your Niche; that'll help you narrow down where to begin.
Ditch the pick up lines.
Some cheesy line isn't going to win a girl's heart over. But if you open strongly and confidently with a direct opener, you just might speed the process up quite a bit. If that seems a bit much to start out with, you can always lean on the trusty indirect direct style of opening to get the ball rolling.
Move girls fast.
I can't stress enough how important it is to be moving women. Moving a woman forces her to commit to an interaction with you – or bow out of it entirely if they have no intentions of doing so.
Asking a girl to move is the moment of truth for an interaction – the girls who are genuinely interested in you will go with you (although you might have to ask / insist a few times); the ones who are just being social won't. To minimize time spent on girls who are just being social and maximize time getting girls invested, move women you meet five to ten minutes into talking to them – or faster. And say goodbye to the ones who won't accompany you – trust me on that one.
Actually get to know women.
As in beyond the surface layer. Use deep diving and your prowess as a conversationalist to get to the core of her person. In other words, don't just find out where she moved from, but find out why she moved and how she came to that decision and whether she'd make the same move again if she had to do it all over. That's how you really get to know a girl in a hurry.
Move faster in general.
Not just in physically moving girls but in all aspects of your interaction and seduction. The longer you take, the more time you're allowing yourself to make mistakes, the more time you're allowing outside factors to coming in and influence the progress of your interaction (like some random drunk guy or your girl's overprotective best friend), and the more time you're allowing that initial excitement she had upon first meeting you to cool off. Waste not, want not; if you want to pick up girls, don't forget to pick up the pace.
Invite women home and get physical.
This is the endgame in a pick up, the part that differentiates a cool conversation you had with a girl from an actual pick up, where you took a girl home with you (or went back to her place, or to some other convenient location where the two of you could be alone together). You went out specifically to meet a girl to get together with, yeah? Well, asking her home and getting physical is the final piece of the puzzle in accomplishing what you set out to accomplish.